---

Fleet Navigator Products
Simply put, the most cost effective solution
An innovative system using inexpensive yet durable barcodes to provide valuable delivery information for you and your customers. Fleet Navigator communicates with all electronic registers to control the delivery, from resetting the register to closing out the delivery, and printing the ticket. The complete delivery record is captured and stored, for integration with your back office.
---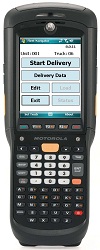 Fleet Fueling
Data Collection
Fleet Navigator uses a handheld scanner running on a Windows operating system. This easy to use system is packed with features and works with durable yet inexpensive barcodes. Fleet Navigator picks up where other systems leave off, allowing the fueler to record valuable information like hour meter, hub meter and odometer readings. This feature allows you to schedule important vehicle and equipment maintenance that prevents down time helping to keep your valuable assets operating in the field. Fleet Navigator offers software packages that will help you sort out all the data that comes in from the fuel truck. We also offer custom software to meet all your specific needs. The information stored on the handheld can be uploaded into your office data system via a docking cradle or it can be transferred using wireless technology. This flexible solution is being used by companies of all sizes, from some of the largest fleet fuelers in the northeast to the smaller one or two truck operators and everywhere in between. Stop by booth 28 and we show you how Fleet Navigator can meet your fleet, wet hosing and on-site fueling needs.
---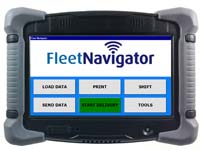 In-Cab Computer
Rugged Touch Screen
The Fleet Navigator VM is a rugged 7" touch screen fixed mount Win-dows CE based solution used to automate and capture the delivery transactions. It is mounted inside the cab of the truck and directly con-nects to the register. The Fleet Navigator software allows the driver to control the register via this connection. In addition to the register control, Fleet Navigator electronically captures the delivery record. This includes data such as time, date, sale number, truck number, to-talizer, quantity delivered in gross and net if compensated. One of the best features of Fleet Navigator is the flexibility to work with existing office systems. Fleet Navigator can produce an output file as simple as Excel-friendly comma delimited text file or as complex as full data ex-change to and from the office. Fleet Navigator does not require chang-es in the office software in order to take full advantage of all the fea-tures Fleet Navigator has to offer. There are a number of mechanisms that can be used to get data to and from Fleet Navigator to your office system; USB thumb drive, Wi-Fi, or cellular.
---
---